Susan Fox, who also writes as Susan Lyons (and in future as Savanna Fox), is the award-winning author of "emotionally compelling, sexy contemporary romance" (Publishers Weekly).  Publishers Weekly gave her February title, His, Unexpectedly, a starred review and ranked it as a Top 10 Romance for Spring 2011. A resident of both Vancouver and Victoria, B.C., Susan has degrees in law and psychology but would far rather be writing fiction than living in the real world. Here she talks about her newest release YOURS, UNEXPECTEDLY.
About the Book
Yours, Unexpectedly
Kensington Brava
ISBN 9780758259318
What happens when the runaway bride finds that her discarded groom has come along for the honeymoon cruise?
Merilee Fallon has been planning her wedding to Matt Townsend since she was seven. But, two days before the big day, she has a serious case of cold feet. She shocks both Matt and herself—and calls off the wedding. Needing a total change of scene, Merilee decides not to let their non-refundable Mexican Riviera cruise go to waste—not realizing Matt has the very same idea. Can they be friends? Will they find new lovers? Or will they discover that sometimes there's nothing more arousing than a second chance at first love—especially on a cruise ship where there are no rules and anything goes…
This is the fourth book in Susan's sexy "planes, trains, automobiles, and a cruise ship" Wild Ride to Love series featuring the four Fallon sisters.
The Questions

1.  What inspired you to create such a fascinating premise?
First, I need to mention that Yours, Unexpectedly is the 4th (and final) book in my Wild Ride to Love series. Initially, my idea was "planes, trains, and automobiles"—and it was going to be three novellas in one anthology, about three older sisters coming home for their baby sister's wedding. But my editor at the time, whether by mistake or design, said something about four books. And I thought, "Sure, I can write four books!" LOL.
After all, there were four sisters. Now all I needed was another mode of transportation that's romantic and sexy, and what better than "the love boat" – i.e., a cruise ship?
But conceiving of four books led to an interesting challenge. My initial premise was that baby sister Merilee was the one Fallon sister who'd always been lucky in love. I thought that, when her big sisters came home for her wedding, some of that lucky magic might brush off along the journey and they, too, would find the loves of their lives.
Well, yes, that did happen, as anyone who has read Sex Drive (Theresa's "planes" romance), Love,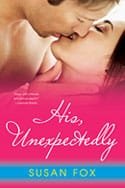 Unexpectedly (Kat's "trains" seduction), and His, Unexpectedly (Jenna's "automobiles" journey) well know.
But what was I going to do about Merilee? We all know that a good story needs conflict, and that in a romance novel we like our heroines and heroes to have to struggle to win their "happily ever after." Having M&M get married and go off on their honeymoon might be fun and sexy, but it wouldn't exactly be compelling.
So then I thought about couples who've been together forever. Anyone who's been in a relationship for many, many years knows that it's hard to sustain the love and the magic. Things change. And how about if you met the love of your life when you were little kids and grew up together? At what point does friendship turn into lust, romance, love – and how do you sustain them?
All very interesting questions. And you know I love questions like that! So I thought, how's Merilee, who believes that her one triumph over her sisters is being lucky in love, going to feel when those sisters come home with incredibly sexy, exciting, romantic new relationships? Might she not think, "I want what they're having!"
And so, the book starts with her calling off the wedding, and the premise of the story is: What happens when the runaway bride discovers that her discarded groom has come along for the honeymoon cruise?
2. You also write as Susan Lyons. What's next for her?
My alter ego writes for Berkley Heat and in July the third of Susan Lyons' destination wedding books was published. The books are Sex on the Beach (Belize), Sex on the Slopes (Whistler), and Heat Waves (Greece). Destination weddings are sexy and romantic, and it's not just the bride and groom who get a piece of that action!
At the moment, I don't have another Susan Lyons book scheduled.
3.   I know readers will be intrigued to learn that there's a new name on the horizon. Can you tell us more?
Savanna Fox just turned in her first book. Dirty Girls Book Club will be published by Berkley Heat in the fall of 2012. Fingers crossed, it will be the first book of a series.
Don't you wish your book club read sexy books? LOL. Well, when Georgia Malone's club chooses their first erotic novel, she finds herself embarking on an erotic journey of her own, and hoping for a happy ending!
Find out more about Susan on her website or visit her on Facebook.