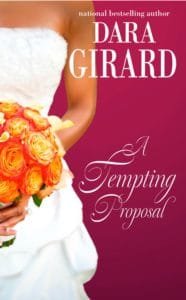 A TEMPTING PROPOSAL ( The Fortune Brothers, Bk #1)
Straight-laced businessman, James Fortune, always does the right thing.
So when his reckless twin brother, Jackson, gets cold feet the day of his wedding, James decides to pretend to be the groom to protect his family's name and honor, until his brother comes to his senses.
However, his new bride, Ava Hughes, is also not who she seems. Soon James and Ava find themselves trying to outwit each other in a sensual game of cat and mouse.
Until one of them is forced to surrender…