Welcome!
Thank you for stopping by. If you enjoy romance and women's fiction, short stories and long novels then you've come to the right place. Please stay a while and check out what my site has to offer.
Curious about my alter ego Dara Benton? Find out more here.
Pre-order now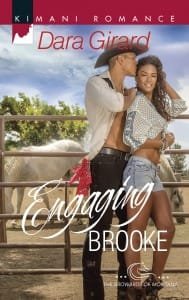 ENGAGING BROOKE
(The Browards of Montana, Book #2)
Coming May 2014
A bride for a Broward?
If Brooke Palmer doesn't find a husband within thirty days, she will lose her family home forever, so she turns to the only man she trusts to save her…
Jameson Broward has only one true love: his vast and rugged ranch in Granger, Montana.
But he understands the importance of protecting his family's legacies, so he agrees to a marriage of convenience to the woman he's cared about for years.
As the stoic groom and his beautiful bride begin their businesslike union, they are confronted by the unexpected lure of their sensual and passionate chemistry. Is it possible for the sexy rancher and his pretend wife to turn their short-term arrangement into a lifetime of love?
Order at Amazon, BarnesandNoble or other booksellers
Now Available
ILLUSIVE FLAME
Taking the heat…
Robert Braxton wants nothing to do with his attractive new housekeeper, Victoria Spenser. He's wary of her strange psychic ability to sense fires as they happen and her bewitching eyes. As an arson investigator, he deals with facts.
But one deadly arson case forces them to work together and face their feelings. Soon they collide with a dangerous arsonist who will test their burgeoning love and threaten their lives.
Order at Amazon, BarnesandNoble, iTunes , Kobo or other booksellers.
'Tis the season…for love?
Dr. Lora Rice is done flying through life solo. 30 Days to Romance guarantees the Maryland researcher will finally snag the man of her dreams. He's not Dr. Justin Silver, who is brilliant, full-of-himself and totally wrong for her. So why is her hunky fellow scientist awakening feelings that make Lora long to come in from the cold?
Justin is a man of science. When he finally  notices Lora, he no longer sees her as his work-obsessed colleague and competitor for a coveted fellowship, but as an incredibly desirable woman. And when a business trip strands them in a snowbound Minnesota cabin, he's suddenly a man ruled by desire.
As passion heats up the long winter nights, Justin has to find a way to convince Lora that rivals in business can become the best partners in love…
Order at Amazon, BarnesandNoble or other booksellers
A man from the past…
Greta Rodgers doesn't want to go to her twentieth high school reunion. Until the chance to meet an old high school crush changes her mind. Unfortunately, the reunion doesn't go as she'd hoped. Her crush introduces her to his wife, people laugh at her outdated clothes, then she gets mugged.
But the night takes a turn for the better when a handsome stranger comes to her rescue. A man who isn't really a stranger at all.
Order at Amazon, BarnesandNoble, Smashwords or other booksellers.